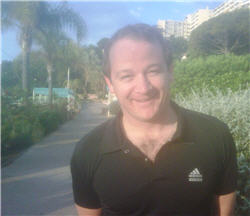 "I feel like a get a good workout, the mixture of muscle building / core exercises mixed with intensity and cardio works well. Its so much more difficult to train with intensity on your own. It has got me back into sport which gives a lot back."
Harry, Monaco, Executive, 30 years
I started to work with Anja because of my back problems (disc herniation) and my lack of fitness. Before I started I was concerned that my back pains can get even worse and that I will not have the endurance to train continuously – but the training was perfectly targeted and the level of challenge was carefully adapted. I now feel that I have stronger muscles, better physical feeling, and a massive reduction in pain. Furthermore much more awareness of my body and what I can do to stay healthy. I would recommend anyone with back pain and lack of fitness to become active, take care of nutrition and most of all train with a professional and well-experienced trainer. The latter one guarantees sustainable success. Working with Anja exceeded my expectations.
Michael, Monaco, Business Owner, 36 years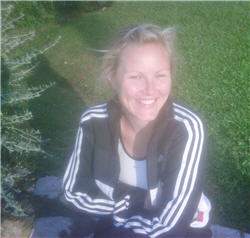 I have never felt so good or energised. I saw results within a few weeks and haven't looked back. I love the personalised approach to fitness. Am really enjoying it!
Jessie, Monaco, Student
I have been working with Anja for 3 months now. I told her that I wanted to loose weight and I had started eliminating some stuff from my diet and started to work out but it didn't go as fast as I wanted. She immediately put me on a different exercise program and gradually educated me on little changes to make in the diet so I could still eat and not feel too deprived (I am a big eater!). I have followed all the advice and I HAVE LOST 14 KILOS OF PURE FAT SINCE WE STARTED -15 CM AROUND THE WAIST!!!! THE BEST PART IS THAT I FEEL THAT WITH ANJA'S SYSTEM I CAN KEEP IT OFF AND I FEEL GREAT!"
Jean-Louis, Cap d'Ail, Aviator, 43 years
"Anja has been a true inspiration for me! She is very professional and truly  looks at your own needs for making the best of what you have rather than training for the sake of it!  Very focussed and, above all, she delivers results!"
Monica, Monaco, Business Owner, 40 years
Was really pleased with result on my arms…felt much more comfortable and confident in my dress than I otherwise would have done, so thank you!
Kirsten, Monaco, Bride in Preparation
I had the impression that my workouts didn t have effect on me and a friend told me about Anja.. I was afraid I was going to look ridiculous in front of a professional trainer ! I wasn t a sportive girl. I didn t know what to expect and if I was able to meet Anja's goals. My way of thinking about sport changed so much …and I feel fitter ! I learned that you don't have to be on the treadmill for an hour cause it's not the most effecient. If you are cluesless about sport I think it s better to go first to a trainer. Anja is working on muscles of the whole body. Besides a training session is like a sort of therapy !
Leen, Monaco, Busy Mom, 45 years