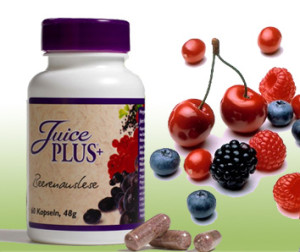 The Vineyard Virtues
The overall effects of the Juice Plus Vineyard Blend® are
Increased blood flow

Improved oxygen supply to the tissues

Enhanced waste elimination

Increased absorption of other supplements

Reducing risk of heart disease.
The following 9 berries and grapes are the active ingredients in the Juice Plus+ Vineyard Blend® formula. They each have specific health effects. Not that they are a cure in themselves – the body does the job, but it uses these ingredients. Here are some of the effects that these foods help with.
Bilberry -increases circulation and helps eye disorders like cataracts and macular degeneration
Cranberry – may inhibit the growth of human breast cancer cells, and reduce the risk of gum disease and stomach ulcers. Reducing the risk of urinary tract infections. High in phenol.
Elderberry – decongests the sinuses and lungs and helps slow aging. anti-viral, antibiotic, anticarcinogenic
Black Currant and Red Currant – stops common bacteria that cause food poisoning and urinary tract infections
Blueberry – superfood with strong anti-carcinogenic and heart disease fighting properties.
Raspberry and Blackberry – strong anti-carcinogenic and anti-aging food
Concord Grape – helps maintain kidney balance and waste elimination, high in resveratrol
The Blend also contains these active ingredients:
Green Tea
Grape Seed Extract
Ginger
Digestive Enzymes
Proteolytic Enzymes
L-carnitine
Coenzyme Q10
Artichoke
Details about the researched benefits of each of these ingredients are detailed in the book "Your Body Speaks–Your Body Heals."
All Juice Plus+
® 
formulas include a variety of whole foods and other ingredients so the healing power within the body can pick what it needs.