Walk Out Your Story on the Trail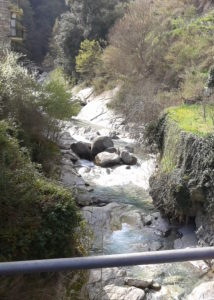 ABOUT. It's a meme we all know now. It's the button you click to find out who's behind a website or a company or an idea. It defines your core characteristics, your essential qualities, what motivates you, what you're passionate about, and why we want to know you. It's the modern word for Bio. What does yours say?
WALKABOUT. A walkabout is a traditional Aboriginal rite of passage, a journey undertaken on foot by aboriginal youth who leaves society for a time to face themselves in Nature, to connect with the land, and to take time out for healing and spiritual awakening. It is a journey to discover yourself and identify your true contribution to the world.
WalkABOUT Writing Workshop: Walk Out Your Story on the Trail is a rare opportunity in a noisy, demanding world to take time out and away. For one week in June, leave your everyday life to reconnect with yourself and find new words to express who you are and what you stand for in the world. No matter what else you do – your work, your family, your legacy – you are at the center of it all. Your life is your most creative endeavor.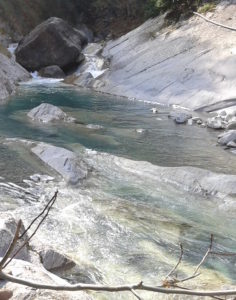 Who is this course designed for?
Do you have a story that you need/want to write down? Maybe for your bio? Your about page? Or simply to share your message? Maybe the thought of sitting down all day writing doesn't get you started…
Whether you're an entrepreneur, a business owner, an artist or a person in transition, your uniqueness is in your story. Personal or professional it's the essence of your message to the world, so it needs to be clear. Whether your intention is to re-envision your business brand or reconnect with your creative center, this workshop will give you the opportunity to challenge your limits, think in new ways and come home with a story on paper.
Creative benefits:
• A once-in-a-lifetime experience to let Nature remind you who you are
• A noise-free environment in which to hear and test your creative voice
• A safe, nurturing, nonjudgmental container to clarify and refine your story
• A structure to advance a long-ignored creative or business writing project
• Expert, compassionate guidance in moving through the creative process
Physical benefits:
• A sensory, physical experience in spectacular, inspirational surroundings
• An occasion to get fit and get moving with a preparatory training program
• The feeling of accomplishment and well-being through outdoor physical activity
• A newfound connection with your body
How do you know if this course is for you?
We know this course is not for everyone. So we're looking for a few serious people ready to challenge themselves in new ways.
• Physically. We will be walking a 50-mile stretch of the Mediterranean Balcony Trail from San Remo, Italy to Menton, France over four of our seven days together. Anja will give you a pre-trip shape-up program one month before the course begins. The trail is classified as Easy to Intermediate, but you will need a certain level of fitness (and a doctor's authorization) in order to join us. So the sooner you register the better prepared you'll be.
• Mentally. Some parts of the trip will be challenging mentally as well, so come prepared to push through your self-limiting beliefs and adjust your mindset as needed. Anja and Katherine will both be here to support you through difficult moments.
• Socially. We will get to know each other very well. The group will be our net and our community as we step out of our comfort zones into an adventure. You will need to come with an open attitude and the willingness to share yourself as we co-create this community together.
• Creatively. Nothing fans the creative flame more than leaving your comfort zone. The act of walking moves you into new, unfamiliar regions of your brain and makes you think in new ways. Katherine will gently guide you to see your story in new ways and capture your discoveries as you go… both during the course and in the month leading up to it.
Course structure:
• Day 1: Arrive San Remo. Check into hotel in the afternoon. Dinner. Evening Session. Meet each other and get acquainted. Share homework and what brought you here and what your project during the workshop. Orientation to our walking journey together and the Wheel of Creativity as our creative roadmap for the course. Relaxing flow session for a good night's sleep.
• Day 2: San Remo to Village 1. Daily compass: The Mind. Free your Mindset. Our first day on the trail will focus on VISION. What do you long for that you don't have today? How would you like your story to change?
• Day 3: Village 1 to Village 2. Daily compass: The Spirit. Ignite your Imagination. Our second day on the trail will focus on EXPLORATION. What does it inspire in you to let go of what you know and discover what you don't know?
• Day 4: Village 2 to Village 3. Daily compass: The Heart. Contain your Emotions. Our third day on the trail will focus on INCUBATION. What can you do while you're waiting? And why waiting it important?
• Day 5: Village 3 to Menton. Daily compass: The Body. Ground your Actions. Our fourth day on the trail will focus on CULTIVATION. What is the story you embody today? How is it different from the story you wish to share with the world?
• Day 6: Menton. We'll spend our final day together in Menton to replenish our bodies with Mediterranean pampering and bring together the week's work. Synthesizing the homework you completed before the course, the four elements of our walking days and the experiences you've collected on the trail, you'll write the first draft of your story. You'll have the opportunity to share what you've learned, refine your message, get feedback, create an action plan and prepare you to take your story home.
• Day 7: Depart Menton. Closing Circle and breakfast together. Travel home.
Daily schedule:
o 6:00 Get up and get dressed.
o 7:00 Warm-up, guided meditation and creative exercise
o 8:00 Breakfast
o 9:30 2.5 hours of walking with one planned group rest stop
o 1:00 Lunch with creative writing exercise
o 2:30 2.5 hours of walking with one planned group rest stop
o 6:00 Arrive at hotel, shower and reflect on your day
o 7:30 Aperitif and talking circle: sharing stories from the trail
o 8:30 Dinner celebration
o 10:00 Sleep
Logistics:
• Location. The stunning Balcony Trail of the Mediterranean
• Dates: 11 – 17 June, 2017
• Exclusive Group: The group is limited to six participants.
• Cost: 1,347.00€ double occupancy. Includes course plus bed & breakfast. (Not included: lunch, dinner, drinks, incidentals, airport transfers.)
• Course leaders: Anja Bolbjerg and Katherine Robertson-Pilling
About Your Guides:
ANJA BOLBJERG hates to see people in pain, frustration or limitation due to physical issues. She knows the feeling very well from having been set back with different serious injuries herself in her Olympic skiing career. Having experienced time and again how properly directed effort makes a huge impact on the body, she makes it her priority to help her clients strengthen and nurture their body to break free of physical constraints and gain confidence and well-being.
Anja lives by the mantra that confidence and satisfaction come with taking action. With a background in biomechanics and in World Class sports as both an Olympic athlete and a trainer, Anja Bolbjerg provides expert guidance, plans and solutions to take the right personally adapted action.
To learn more about Anja's story, watch her TEDx talk: "Achieve More With Less" or read her part of the book "Turning Points."
KATHERINE ROBERTSON-PILLING is an international strategic creativity coach, entrepreneur, and author of "The Wheel of Creativity: Taking Your Place in the Adventure of Life." As an award-winning professional writer for more than 30 years, Katherine has written and produced hundreds of projects for clients from Hollywood to the South of France.
What makes her work unique is The Wheel of Creativity™, her proprietary road map of the creative process, which she uses to train entrepreneurs and business owners to think creatively. Her philosophy is that people who think creatively and act authentically change the world (and their own lives) every day. It begins and ends with the stories you tell.
It was Katherine's own personal walkabout in 2001 that led her to the French Riviera, where she stayed for 13 years, married an English sea captain and wrote her book. Today she and her husband split their time between Colorado, Nice and the UK.
"NOT ALL WHO WANDER ARE LOST."
– J. R. R. Tolkien (The Lord of the Rings)
Fundamentally, you know who you are and how you need to live. The pace and noise of modern life make it difficult to hear your inner voice and give it expression. But these fundamental processes are essential to a fulfilling human life. Taking time out is essential.
To register:
We all have valuable stories within us. And we struggle to express them because Life gets in the way. If you're ready to tell the story you've never managed to tell for whatever reason, if you are ready to challenge yourself in new ways to discover the uniqueness within you, if you are ready for a breakthrough in any area of your life, then contact us for an interview to see if this program is right for you.
You can see Facebook event page here